About Us
ISO Accreditation Consultants
MAS Management Systems provides accreditation consultant services to help your lab work better and smarter.
Why do you need us? Because we want to help you achieve your goals for compliance and business excellence. Our aim is to be your trusted advisor. We care not only about your accreditation journey but also about your business as a whole.
If you're considering applying for NATA accreditation, we can help you unravel the NATA maze and make the process as smooth and stress-free as possible.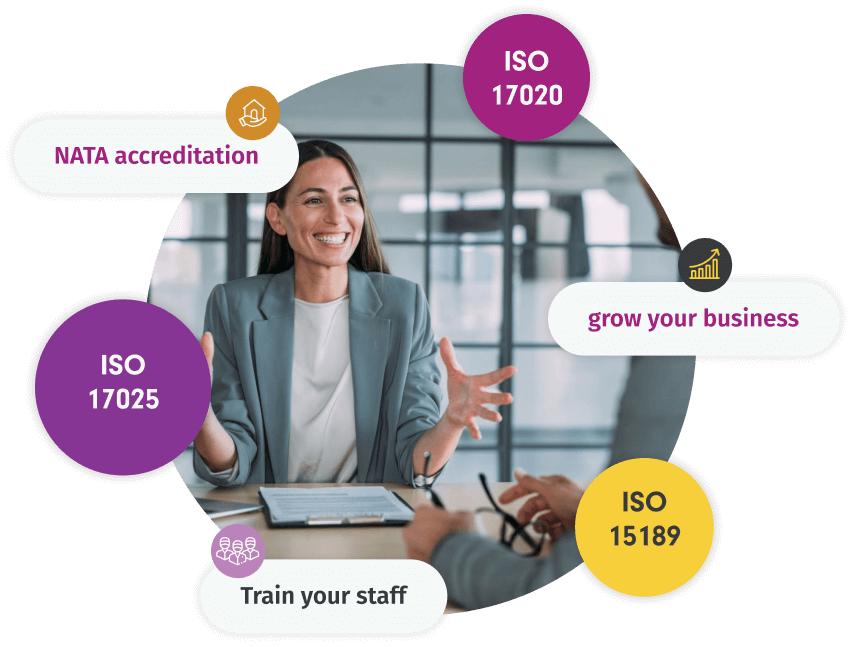 Our Services
NATA Accreditation
We specialise in helping laboratories prepare for, apply for, and maintain NATA Accreditation
ISO 17025
ISO 15189
ISO 17020
OECD GLP
We can also help you with:
ISO 9001 Certification
NATA Training
We train your staff using a series of  practical, lab-specific courses.
Risk Management
ISO 9001 Laboratory Training
Root Cause Analysis
Measurement Uncertainty
ISO 17025 & ISO 15189 Training
Internal Audits
Metrological Traceability
Digital Badges
Ready for your business to work better
and smarter? Let us:
Take you step-by-step through the accreditation requirements for ISO 17025, ISO 15189, ISO 17020 and Good Laboratory Practice (GLP)
Show you how to comply with the ISO 9001 certification requirements
Give you confidence when working with accreditation and certification bodies and regulators
Solve your NATA accreditation, management system and compliance conundrums.
Train your staff in implementing and auditing the requirements
Develop a sound management system that will help you grow your business
Show you how to optimise inefficient, costly and ineffective business systems and simplify your processes
Workshop your business and marketing strategies to improve everyday operations.
Already have an accreditation?
We'll support your lab to maintain it! We can support you with:
Your systems
Internal audits
Assessment
ISO 9001 compliance
About MAS Management Systems
Testimonials
I have known Maree for many years and always valued her integrity and expertise in technical and quality matters but also her friendly and easy going nature. Maree helped me in the start up of Steel River Testing by providing support and advice to myself and and training for our staff. This was valuable in ensuring we not only met the requirements of ISO17025 but also we met those requirements in an efficient manner. I would happily recommend Maree for anyone requiring assistance or support in establishing and maintaining a quality system.
Maree and her team are very experienced professionals and well skilled in their craft. Client service is first class. I wouldn't hesitate in recommending Maree and her business
Maree has an amazing grasp of laboratory and quality issues based on experience rather than theory. A true 'go to person' on the application of testing to real world issues.
I would highly recommended Maree Stuart for the services provided by MAS Management Systems as NATA Laboratory Accreditation Consultants. Last year, I have worked hand in hand…
Top notch management consultancy with professional staff. Maree is a great person to work with
Contact Us
Get in touch! We love to hear from you.
Address
1A Annangrove Rd. Sydney
New South Wales 2156