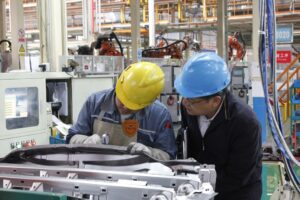 ISO 17020 is an international quality management system standard specifically designed for promoting confidence in bodies performing inspections.
The standard also includes requirements for the technical competence of inspection organisations.
Accreditation bodies (such as NATA) use ISO 17020 to evaluate the technical competence and management systems of an organisation performing inspection activities.
Activities covered by inspection have an extremely broad base.
They can include quantity. quality, safety, fitness for purpose or continued safety compliance. Product and materials examination, installations, plants, processes, work procedures or services can also fall under the inspection umbrella.
Inspection bodies carry out assessments on behalf of private clients, their parent organisations or authorities. Their objective is to provide information about the conformity of inspected items with regulations, standards, specifications, inspection schemes or contracts.
Inspection activities can overlap with testing and certification activities where these activities have common characteristics.
Getting accreditation for ISO 17020 is not a simple task and sometimes you have to wade through many additional documents to meet accreditation criteria.
The good news is that the requirements are often things you are already doing in your organisation, such as having trained and competent staff, calibrating equipment and doing QC.
Sometimes there are things you don't understand and that's where we can help.
Read our blog for tips on how to navigate the NATA maze. Better still, contact us for a confidential discussion.
Need help with training? We also offer professional training courses and workshops.