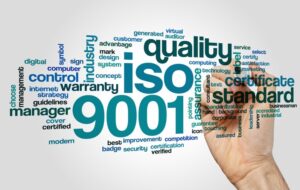 ISO 9001 is a quality management system standard.
The requirements are generic and can be applied to any organisation. It doesn't matter what size or type of organisation it is or what type of product or service it provides.
The standard is based on a number of quality management principles. This includes a strong focus on the customer, the motivation of top management, process approach and commitment to continual improvement.
Why do organisations use ISO 9001? Because it demonstrates their ability to consistently provide good quality products and services that meet customer and regulatory requirements.
Gaining certification to ISO 9001 can be a complex task. Business owners and managers will face many decisions on what their system should look like. There are off-the-shelf systems but these may not always be the best answer. In fact, they may add to your confusion!
There are some articles on our blog on ways to make your management system work for you.
However, the fastest option is to get in touch with us for a confidential discussion. We have the skills and experience to support your organisation's ISO 9001 journey and make it as smooth as possible!
Your success is our business so don't hesitate to contact us.
Why is our course different?
Because we use a process from your facility to ensure what you learn is of immediate and practical benefit.
Since we train you using one of your organisation's processes as an example, you'll walk away with knowledge you can apply as soon as you're back in your workplace.
When run as an in-house course, we'll train staff using your processes in your facility saving you time and money!
Why choose our training courses?
We limit our course numbers to ensure the best results for all participants.
We're able to deliver highly practical sessions because we regularly interact with labs in their facilities, giving us up-to-date experiences.
Our participants and their needs drive our training.
All of our courses include the option for participants to have their process, procedure or MU workings analysed and discussed as part of the course.
This means that participants walk away from the course with information that is of immediate use to them back in their workplace.
Our unique follow up process
Two weeks after the training, we catch up with each participant, just to be sure they're on track.
Participants value this opportunity to ask questions that may have come up since their training.
Whether we run training specifically for your lab or you're part of a public session, we can help you achieve your goals.
If you have any questions about this course, email info@masmanagementsystems.com.au or phone Maree on 0411 540 709 for an obligation-free discussion.
Download the ISO 9001 flyer