Download the ISO/IEC 17025 Unpacked flyer
Email us at info@masmanagementsystems.com.au if you're looking for an inhouse session or for future dates.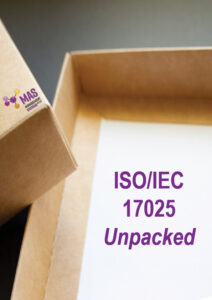 There is so much information online and so many courses about the ISO/IEC 17025 Standard. It can be difficult to work out which one to choose.
Naturally in this course you will:
•  Be shown why ISO/IEC 17025 should be used
•  Look at each clause in the Standard
•  Examine focus clauses in detail
•  Discuss risk-based thinking and how it affects your implementation
•  Learn how to apply the requirements of the Standard to your quality system
•  Gain confidence in defending your implementation during an assessment
But that's where the similarity to other ISO/IEC 17025 courses ends.
Our course is different.
We do examine the clauses of the Standard.
We do discuss their application in your lab.
But we also understand that often the reason you want to attend training is because of a specific issue.
Perhaps there's a clause you don't understand or don't know how to implement.
Or perhaps you thought you understood it but at your last NATA assessment, the team said you didn't and the lab was given a nonconformance.
So we'd like you to think about which clauses you need more information about; which ones you'd like to discuss with someone outside your facility and get insights into its implementation.
Then we'll ask you to send us those clauses and any specific questions before the course starts so we can drill down into those a bit more during the training.
Why is our ISO/IEC 17025 course different?
Because we use a process from your facility to ensure what you learn is of immediate and practical benefit.
Since we train you using one of your organisation's processes as an example, you'll walk away with knowledge you can apply as soon as you're back in your workplace.
When run as an in-house course, we'll train staff using your processes in your facility saving you time and money!
Why choose our training courses?
We limit our course numbers to ensure the best results for all participants.
We're able to deliver highly practical sessions because we regularly interact with labs in their facilities, giving us up-to-date experiences.
Our participants and their needs drive our training.
All of our courses include the option for participants to have their process, procedure or MU workings analysed and discussed as part of the course.
This means that participants walk away from the course with information that is of immediate use to them back in their workplace.
Our unique follow up process
Two weeks after the training, we catch up with each participant, just to be sure they're on track.
Participants value this opportunity to ask questions that may have come up since their training.
Whether we run training specifically for your lab or you're part of a public session, we can help you achieve your goals.
If you have any questions about this course, email info@masmanagementsystems.com.au or phone Maree on 0411 540 709 for an obligation-free discussion.