written by Maree Stuart
As we head into the silly season, we're delighted to present:
The MAS Management Systems 12 Days of a Lab Christmas!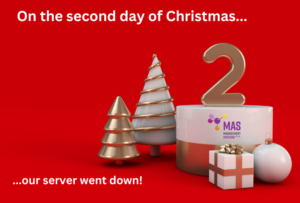 On the second day of Christmas, our server went down!
These days, most information and data are stored electronically. Apart from saving the planet, maintaining information in an digital format can make retrieval of data and analysis for trends easier.
But what happens when all that data suddenly disappears?
You might start to tear your hair out. Or you could be sensible and think about the well-developed back-up systems you have in place. And that's because you have a system that complies with ISO/IEC 17025, ISO 15189 or ISO 17020!
What does the Standard say?
There are a couple of places where records are mentioned in the standards.
The management of technical records and data in an information management system is covered in the "technical" part of these standards.
These requirements describe issues such as the validation of LIMS, control of access to data and protection from tampering and loss. Labs must also ensure that any externally managed services also meet the relevant requirements.
The requirements for the control of records are outlined in the management systems part of the standards. These requirements also highlight the need to have controls for storage, protection, back-up, archive and retrieval of records, amongst other things.
How do we meet the requirements?
First things first, take stock of all your systems for control and management of records.
When was the last back-up? If it's not too long ago, then you can restore the system and hopefully not have lost too much data.
Do you have a contingency plan? If so, now is the time to dust it off and implement it.
If you store your information on an externally managed server, then investigate what has happened with the supplier of this service. What can they do to address the problem? Make sure that you maintain records of these communications.
Rainy day duplicates
Sometimes, we put away a duplicate set of electronic records in a hard copy or on an instrument for a rainy day. Well, it's time to pull out your umbrella!!
If you've lost data from your LIMS, then see what you can do to restore the missing pieces by going to those duplicate sources. You may not need to import data back into LIMS. However, if anyone asks later you will have peace of mind that all is not lost.
Make a note in your system that the data is stored for that period in a different location or which data you have lost.
Of course, the loss of data on a server is a problem and what do we know we should do when we have a problem? Work the problem through the non-conformance and corrective action system!
Finally, consider whether this catastrophe will affect your clients. We all saw how Optus was regarded when it came to revealing the extent of the data breach. People are nervous when it comes to electronic information.
If this issue affects or may adversely affect your clients, talk to them about what it means to their business. They might initially be angry but in the long run, should be appreciative of you keeping them informed.
It's all part of delivering a quality lab service.
Not sure how to optimise your records management system? We can help! With expertise in process improvement and technology, we can help you develop solutions that help keep your record system fit for purpose.
Get in touch with Maree at info@masmanagementsystems.com.au or call 0411 540 709 for a no-obligation conversation.
Remember, you don't have to do this alone!
People who read this also enjoyed: