written by Maree Stuart
As we head into the silly season we are delighted to present:
The MAS Management Systems 12 Days of a Lab Christmas!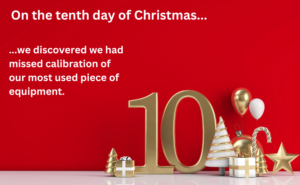 On the tenth day of Christmas we discovered we had missed calibration
of our most used piece of equipment
Issues to do with equipment and calibration are often areas where labs get caught when it comes to accreditation.
Dealing with these kinds of issues in a way that doesn't put your accreditation at risk is sometimes difficult to stomach. We really don't want to have to deal with the consequences, which we fear might be expensive. But, with some common sense, and a bit of bravery, you might find it's actually an opportunity in waiting!
Equipment isn't just a big flashy gizmo!
Equipment refers to all types of lab resources. This includes measuring equipment, reagents, reference standards etc. Labs need to have procedures for managing all equipment, from handling and transport through to maintenance. That's a lot of ground to cover! It's often the aspects of handling and transport procedures that trip labs up.
So whilst that most used piece of equipment wasn't calibrated, perhaps you have other things, like internal reference standards or materials, which have been helping to give you assurance of the quality of results.
What to do if it really is up to the calibration of that piece of equipment
After taking a deep breath, start by getting the equipment calibrated.
Once you get the results of the calibration, you'll get some information that will allow for some informed decisions. It's an important piece of evidence and in Quality, we should always be basing our decisions on data.
Look at the results of calibration the last time the equipment was calibrated and perhaps from the occasions before that. Has the performance of the equipment really changed? You could even apply some statistics to tell you whether this is the case!
Calibration is incredibly important when it comes to equipment. Working out when to calibrate a piece of equipment should not be an arbitrary exercise. It should be based on data. If this exercise shows that your equipment is stable over a longer period than you initially thought, this is an opportunity! Can you lessen the frequency of calibration while still assuring reliable and accurate results?
If you're analysis shows that things have not changed significantly, then you can breathe a sigh of relief. It means that the results of any testing you've done are valid in terms of metrological traceability and accuracy.
But what if that's not the case?
Being sensible and getting over the shock
We have in our tool kit a structure for dealing with instances just like this. It's called the non-conformance and corrective action process!
In this case, you do need to do a thorough and honest investigation. A cursory look over what happened in the past might be sufficient, depending on the risk an incorrect result poses to you and your customers.
Use the corrective action process to lead you through this.
If you don't know the risk arising from this event, you might not want to directly ask your customers. But some considered thinking might lead you to the reasons why the customer is asking for the test or calibration.
What do you know about the market you or your customers operate in? Is it highly regulated? If it is, then consider whether an incorrect result will lead to a regulatory risk for your customer, which might ultimately be sheeted home to your lab if there is a fine imposed by the regulator.
If you're not sure how to do the investigation and fix the problem, we're here to help!
Not only can we help with the particular problem you're facing, we can teach you and your staff how to face these and similar problems in the future. It doesn't need to spell the end of your NATA accreditation. We can show you how!
Get in contact with Maree at maree@masmanagementsystems.com.au or phone 0411 540 709.
Remember, you don't have to do this alone!
People who read this also enjoyed: