written by Maree Stuart
We've all been disappointed by our suppliers from time to time, especially in times of supply chain constraints.
Imagine being the CEO of the Commonwealth Games Federation a couple of days ago. You're quietly minding your own business, basking in the last rays of glory that was Birmingham 2022 and looking forward to a novel approach to the design of the 2026 Games. Then you receive a little email that goes along the lines of……
Dear Katie
Just a short note to let you know we've had a bit of a budget blow-out and might have to make some changes with the 2026 Commonwealth Games. We won't be able to host the event.
I'm sure you'll find a replacement host city for the next Games.
Best regards
Dan
This is not unlike an email you might have received about a planned calibration of a critical piece of equipment, but hopefully not quite as dramatic. Although, we worked with a lab a few years ago where key supplier issues lead to follow-up visits at not one, but two NATA assessments in two rounds. In their case, the most critical piece of equipment in their calibration work had been misplaced somewhere in transit between the lab and its calibration supplier. That cost time, and money because of the need to pay for two follow-up visits, and of course some embarrassment.
A critical part of any quality management system (QMS) standard is the processes for managing suppliers or externally provided products and services. Most organisations are not completely self-sustaining and need some help from the outside. The QMS standards recognise this and provide a framework for success with these relationships.
Not only do the QMS standards provide what you might recognise as pointers for success, these standards also help organisations uphold the integrity and reliability of products and services, even when aspects of the production, testing or calibration process are outsourced.
Understanding the steps in working with suppliers
All the family of quality management system standards stipulate stringent requirements to ensure that externally provided services and products meet the organisation's quality benchmarks. This involves strong systems of evaluation, verification, and monitoring of suppliers.
When it comes to ISO 17025 and ISO 15189, the responsibility of demonstrating control of the quality and specifications of the products and services they source externally lies squarely with the lab.
It is also crucial to understand that the use of externally provided products or services does not absolve the lab from its obligation to its clients. The lab remains fully responsible for any activity performed under its auspices and must retain the competence to evaluate the impact of such external provision on the laboratory's activities and on the validity of the results. That means that the performance of any sub-contracted lab is your responsibility unless the client requires the use of a particular lab.
It starts with whom you select to purchase from
The requirements do not start with the actual purchase request. The first requirement is for labs to put a systematic procedure in place to evaluate and select suppliers based on their ability to meet specified requirements.
As a customer, it's up to the lab to be clear on these requirements and to explicitly communicate those requirements to the supplier. That means the standard you expect work will be performed to; any requirements for competence of the supplier such as accreditation to ISO 17025; and where you expect the work to be done. You probably also have some criteria around price and turn-around time. These aspects form your evaluation criteria for suppliers.
The criteria are objectively used to select the supplier/s (you might have several to choose from and that is completely OK).
Once you've selected the supplier/s, you might develop a list of suppliers and what products and services they supply to your organisation. There is no requirement to have an approved suppliers list. But it helps to be organised for the sake of you and your staff.
If only Katie at the Commonwealth Games Federation had realised this first…….
The act of making the purchase
Now, you can set about purchasing from your suppliers.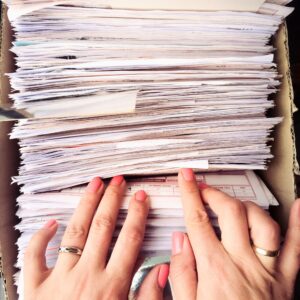 There are no requirements to have a system that uses purchase orders. There are also no requirements to have a purchase requisition form. You can place an order over the phone or on an on-line order form. But you do need to keep evidence of your request. Diary entries and screenshots are perfect evidence of your request.
There are some pieces of information that you must communicate in the request to your suppliers. These are the product or service you are purchasing, the standard you expect work will be performed to; any requirements for competence of the supplier such as accreditation to ISO 17025; and where you expect the work to be done. Remember those? They were the things to build into your criteria for supplier selection. They have multiple uses.
Steps to prevent buyer's remorse
When you receive the product or service from your supplier, please don't just rip open the packaging and start using it like a child on Christmas morning. (And if you're a bloke, please read the instructions first 😉).
The small act of verifying you received what you ordered is not only a requirement, it's a good idea so you don't suffer from buyer's remorse. Keep a record of those verification activities which can range from commissioning a big new fancy piece of kit, through to annotating a purchase request or a calibration certificate.
If the risk presented by the purchase is particularly high, you could also conduct an inspection of the final product before it is handed over to you.
Such verification processes are indispensable as they further guarantee that the product or service is as stated and is fit for its intended use in the lab.
Ongoing maintenance of suppliers
Once you start working with your suppliers, you'll quickly learn if they live up to your expectations.
Do they deliver the products and services you've requested?
Do they meet requirements for turn-around time or service delivery?
Do they keep putting up their prices?
Other ways you can evaluate your suppliers' performance could range from a comparison of product specifications, references from other users, and evaluation of service history, to formal assessment and audits. The aim is to ensure that any input from external sources does not compromise the quality of the test or calibration results or the products and services your organisation provides.
It's worth noting that the data about the provider's performance should be periodically reassessed to ensure continued compliance.
If things aren't working, there's no option but to act. You'll have the evidence to have a difficult conversation about improvement or cutting them out of the picture entirely.
Wrapping it up in some documentation
This aspect of the standards is one of the few areas where there are stated requirements for documented procedures. Write down the process from start to finish and don't scrimp on the steps described in the procedure.
In a nutshell, the requirements for externally provided products and services under QMS standards are not just criteria for accreditation or certification, they are actually good for business. By rigorously enforcing these standards, laboratories can ensure that all aspects of their operation, including those not directly under their control, meet the same high standards.
The requirements for externally provided products and services go beyond a mere checklist. It's an embodiment of the commitment to trust, reliability, and quality in laboratory testing and calibration services. It shines a spotlight on the crucial role of external providers and casts them not just as suppliers, but as partners in maintaining the lab's integrity and credibility.
Need help?
That's what we're here for!
Contact Maree at maree@masmanagementsystems.com.au or 0411 540 709 if you some help with ways to improve your relationship with suppliers and meet accreditation or certification requirements. Katie, we're waiting for your call………
People who read this also enjoyed