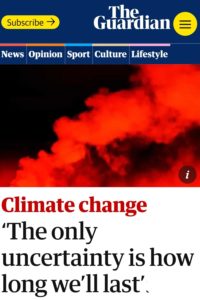 Breaking news!
The Guardian says "The only uncertainty is how long we'll last". Clearly they haven't heard about the MAS MU for Testing Labs workshop!
Calculating Measurement Uncertainty (MU) can be a daunting prospect for some people. Once they see that it involves numbers, their brain goes numb!
That's why our training course is different.  We go through the MU process with you and explain it in clear and simple terms.
In addition, you can bring information from your own lab or facility to use on the day. This means that you will leave the course with an MU task complete and ready to show NATA!
As an added bonus, we'll check back with you a couple of weeks later. That will give you time to ensure that you can use the information from the course back at work. It also means that if you have questions about application, you can get them answered by the trainer.
Head to our training page now and take a look at our outlines. If you want to save time and money, take a look at our packages. They have everything you need for training your staff to fit your schedule.
Remember you don't have to do this alone!