written by Maree Stuart
As we head into the silly season we are delighted to present:
The MAS Management Systems 12 Days of a Lab Christmas!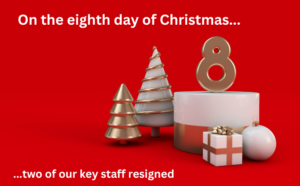 On the eighth day of Christmas, two of our key staff resigned
To paraphrase Oscar Wilde, losing one key staff member is a misfortune, to lose two looks like carelessness.
Faced with this situation, is it really a case of carelessness?  Or is there something you can do to work out what's really going on? And what can you do deal with this problem?
It often starts with culture
Culture is the collection of values, expectations, and behaviours that guide and inform the actions of all an organisation's or department's members. Think of it as the collection of traits that make your organisation what it is.
Getting the culture right and where you want it to be is a bit like the task of painting the Sydney Harbour Bridge. Just when you think you've finished you have to go back to the start and go over it again. It takes careful attention to keep the things you want and weed out the values, expectations and behaviours you don't want.
Culture affects both our internal and external customers. If people in your lab aren't happy, then it can lead to all kinds of issues including unhappiness of customers and problems with staff retention. Have you been keeping up with what happened at the Queensland Health and Forensic Science Lab Inquiry over the past few weeks? Culture was so poor it had an impact on the quality of results that were used in criminal court cases! There are definitely some unhappy customers in the Queensland justice system right now and some very unhappy staff.
It's important to paying attention to culture and if you're looking for someone to help with this, you can get in contact with our good friends at Fisher People in Culture.
What else is going on to cause this?
If you're not sure if culture is the problem, well, you have a great tool to help you get to the bottom of this. It might be something like a recent relocation, or how much you pay your staff.
Your trusty root cause analysis will help you understand what's really going on and identify how to fix it. Catch up on how to do this by taking a look through our articles on this topic.
Training is an important fix, both before and after the event
Investing in a staff training program is an immediate benefit to your organisation. People will do things correctly the first time and there's the consequence of reduced waste in your business.
But more importantly, your staff will know that you're interested in them, their growth and morale. And it's that feeling of being valued that can help to prevent people moving on to greener pastures.
Training opportunities promotes a positive work culture and adds to job enrichment and loyalty.
Staff training can save an organisation thousands of dollars. Recruiting and training staff is an expensive business. By providing employees with training, it increases their sense of purpose and role growth. This not only makes them feel more motivated to support the goals of the business, but it's also more likely to make them stay.
It's also how you can ensure that the impact of resignations of key staff can be minimised.
Filling in the gaps
Training should be used to fill skill gaps. Analyse what skills are available, what skills are needed, and which skills are at risk of being lost through resignation or retirement.
Also consider training your staff in skills that may seem outside their immediate role. This will demonstrate your confidence in their abilities and perhaps reflect on a different career path within the business.
Communication and problem-solving skills are very important parts of working in a well-functioning lab. Think about making this part of your induction process and offer 'refresher' workshops regularly.
Transfer of skills and knowledge management
Businesses need to promote knowledge transfer back to the lab bench so designing and implementing effective training programs for this process is critical.
You could consider assigning a training mentor who is a go-to resource as well as sharing their own knowledge. This is particularly useful for long term employees or those nearing retirement and allows for an opportunity to capture that corporate knowledge.
Other strategies for skills transfer could include establishment of networks within the organisation to share information and developing a skills bank.
Cross training plans could be part of your risk management strategy.
Of course, sometimes there's nothing you can do to prevent people moving on. But you can and should view the prospect of these kinds of events as a risk to your business. So make sure you add this as a risk and manage it appropriately. We've written on risk management in several articles if you need to brush up on how to do this.
Importantly, remember that you don't have to do this alone!
If you need help with dealing with catastrophes like this, get in touch with us at info@masmanagementsystems.com.au or call Maree on 0411 540 709.
People who read this also enjoyed: